Foto historike
FOTO HISTORIKE TE KOMBETARES DHE EKIPEVE TE SUPERLIGES
ISTORY OF ALBANIAN SOCCER IN PICTURES
---
The first albanian team: Indipendenca Shkoder vs. Austro-Hungarian Imperial navy team. It ended 2-1 for teh Guests.



This is the team that won 6 consecutive championship from 1930-1937 Sport Klub Tirana.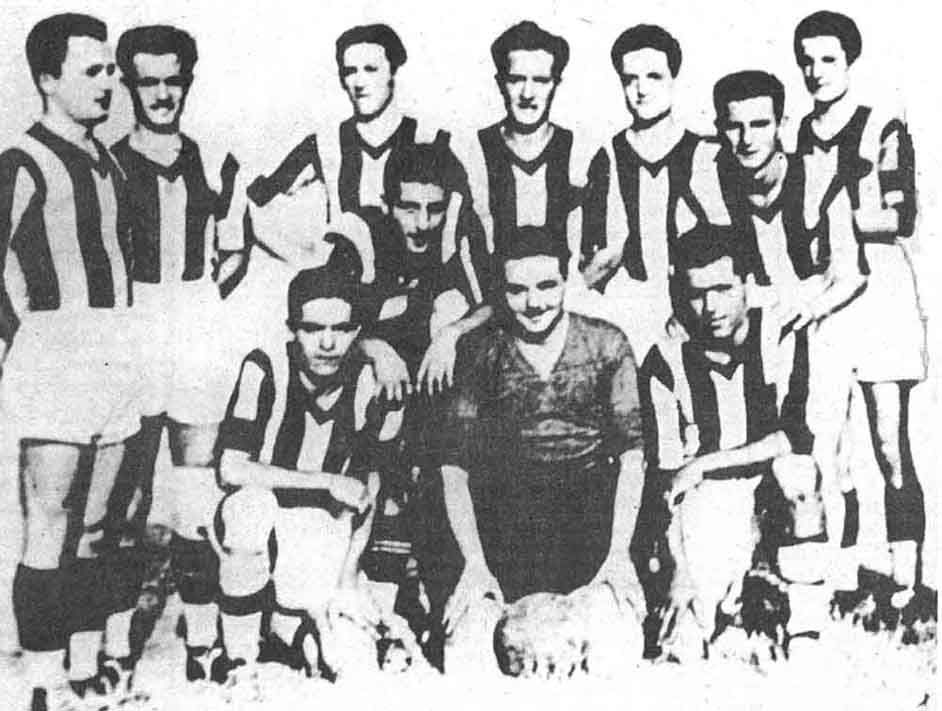 This is the team that won the 1933 championship Skenderbey Korce. Their only win ever!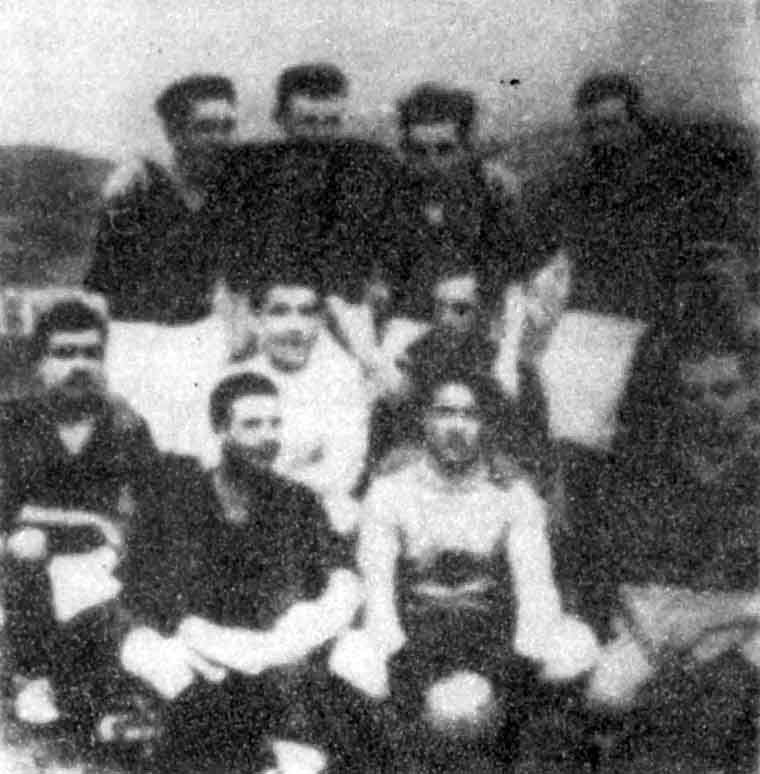 This is Naim Kryeziu, with the team that won the Seria A in 1942 AS Roma.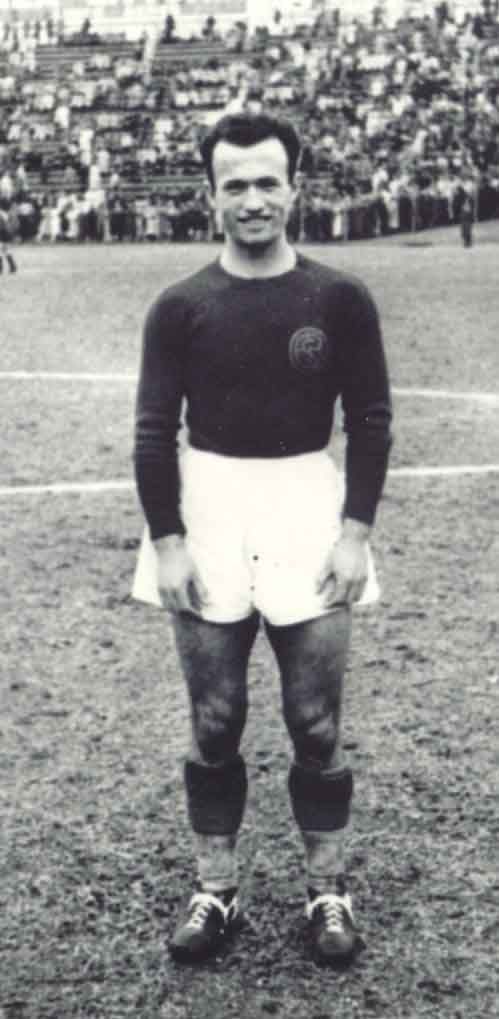 Here's another albanian(from Kosovo) Riza Lushta that won the coppa d'italia with Juventus in 1942. He scored a hat trick in the final against Milan that ended 4-1.


The team that won the championship in 1945, Vllaznia. from left: Dodë Tahiri, Bimo Fakja, Ernest Halepiani, Xhelal Juka, Muhamet Dibra, Preng Gjeloshi, Met Vasija, Zyhdi Barbullushi, Beqir Osmani, Adem Smajli, Muc Koxhja


Some pictures from the 1946 Balkans Cup, the only one to be won from Albania.

Tiranë, October 9th, 1946: Albania-Bulgaria 3-1; from left: Bimo Fakja, Muhamet Dibra, Aristidh Parapani, Pal Mirashi, Bahri Kavaja, Vasif Biçaku, Qamil Teliti, Rexhep Spahiu, Dodë Tahiri, knelt from left: Sllave Llambi, Loro Boriçi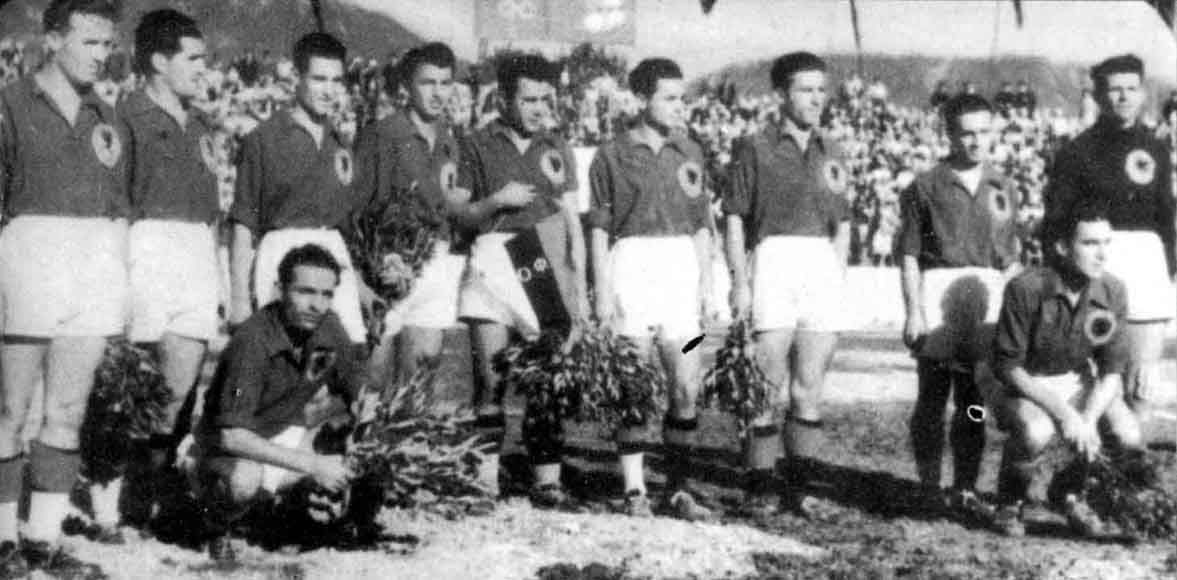 Tiranë, October 9th, 1946: Loro Boriçi, penalty, and 65th Albania-Bulgaria 2-0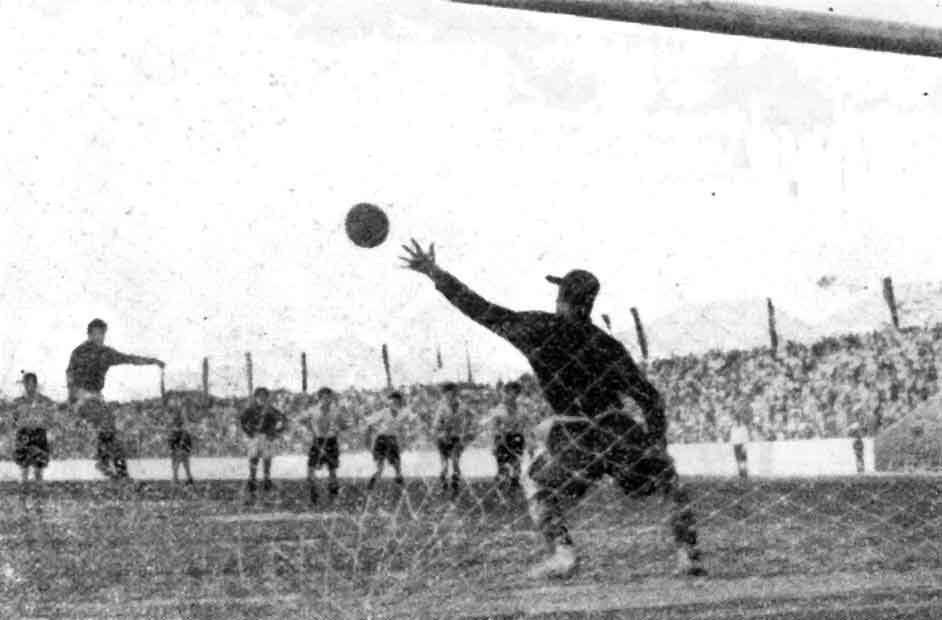 Tiranë, October 13th, 1946: Albania-Romania 1-0; from left: Rexhep Spahiu, Muhamet Dibra, Aristidh Parapani, Bimo Fakja, Bahri Kavaja, Pal Mirashi, Sllave Llambi, Vasif Biçaku, Qamil Teliti, Xhakomino Pozeli (Giacomino Poselli), Loro Boriçi


Qamil Teliti, 55th, beats Rumanian goalkeeper Lazareanu


The great Loro Borici (could he have been Serbian?). The stadium in Shkodra is named after him. He also played for Lazio in 1941-42.


Vllaznia receiving the cup again in 1946. The guy with the coat is one of the greatest sports journalists in albania, anton mazreku.


Defeating the Mighty Magyars in a friendly, 1948.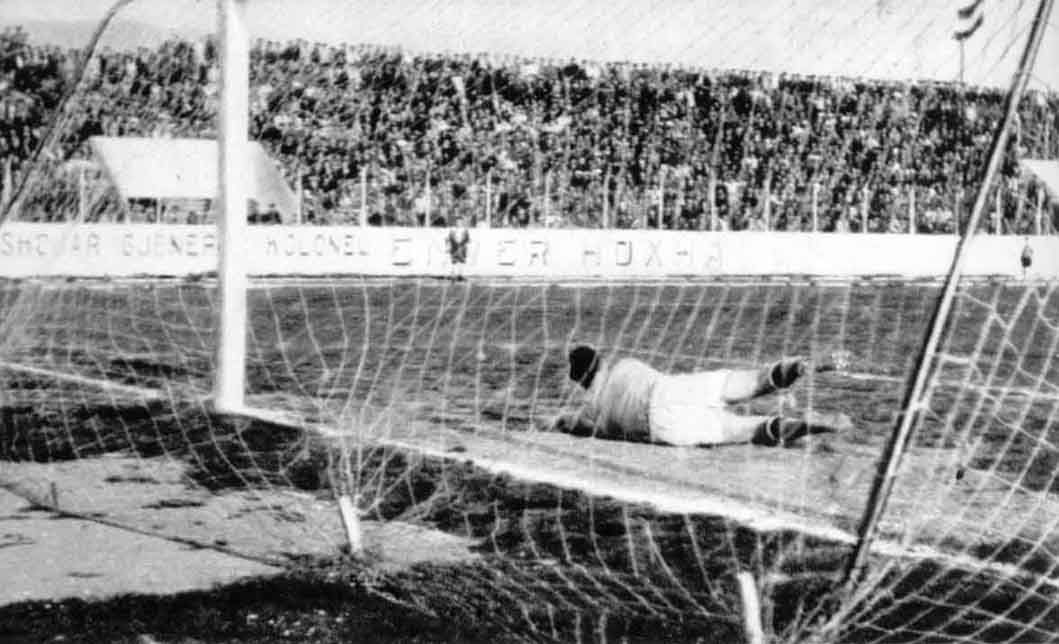 the first away victory for our team against Rumania in the Balkans and Central European Championship of 1948. We came in second, after the Mighty Magyars.

Bucuresti, May 2nd, 1948: Romania-Albania 0-1; from left: Rexhep Spahiu (out of photo), Muhamet Dibra, Sllave Llambi, Bimo Fakja, Bahri Kavaja, Aristidh Parapani, Vasif Biçaku, Pal Mirashi, Besim Fagu, Xhakomino Pozeli (Giacomino Poselli), Loro Boriçi (out of photo




Bucuresti, May 2nd, 1948: Romania-Albania 0-1; from left: Loro Boriçi and Rumanian Bonihadi in action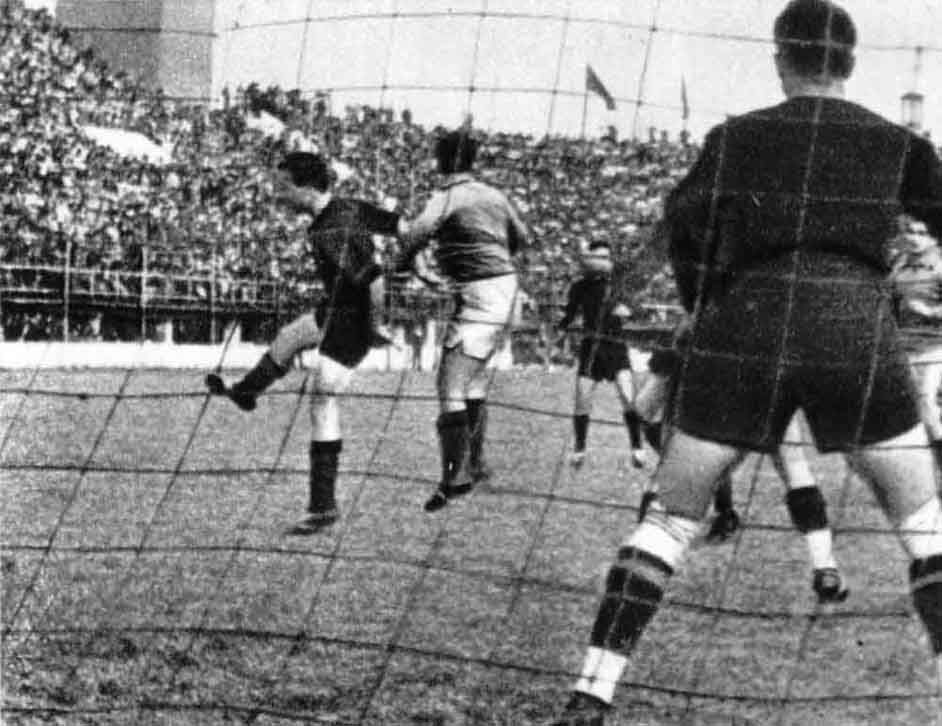 Tiranë, May 23rd, 1948: Albania-"Great" Hungary 0-0; Hungarian goalkeeper Toth save goal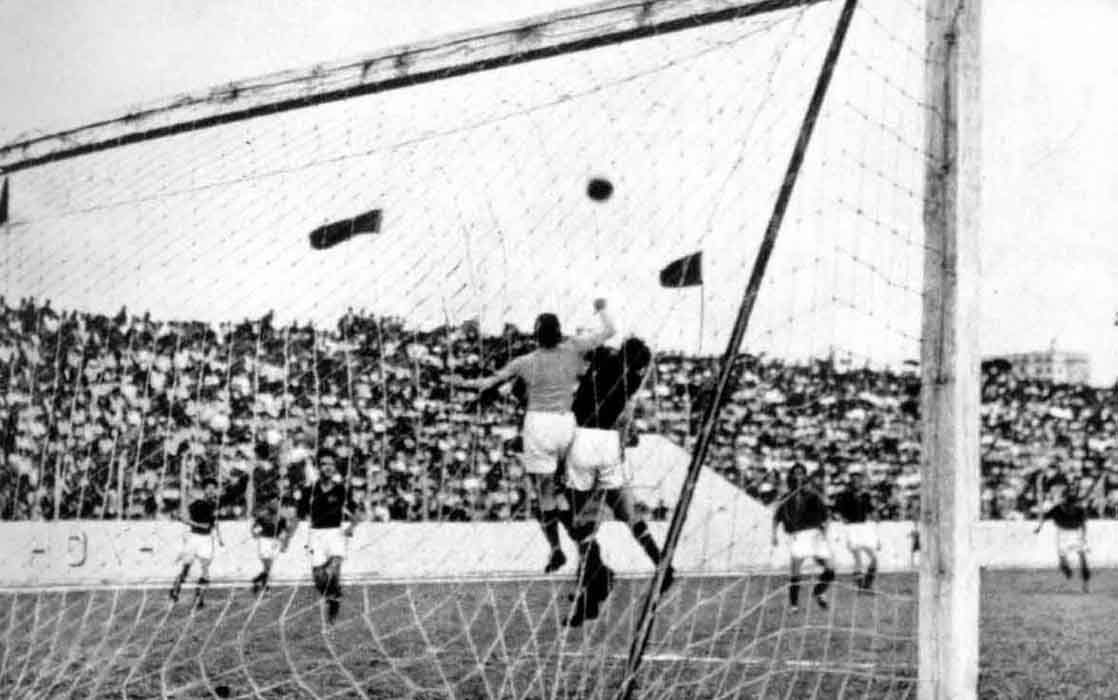 Beating Poland 2-0 in a 1953 friendly. from left two Albanian footballers: Hamdi Bakalli and Simon Deda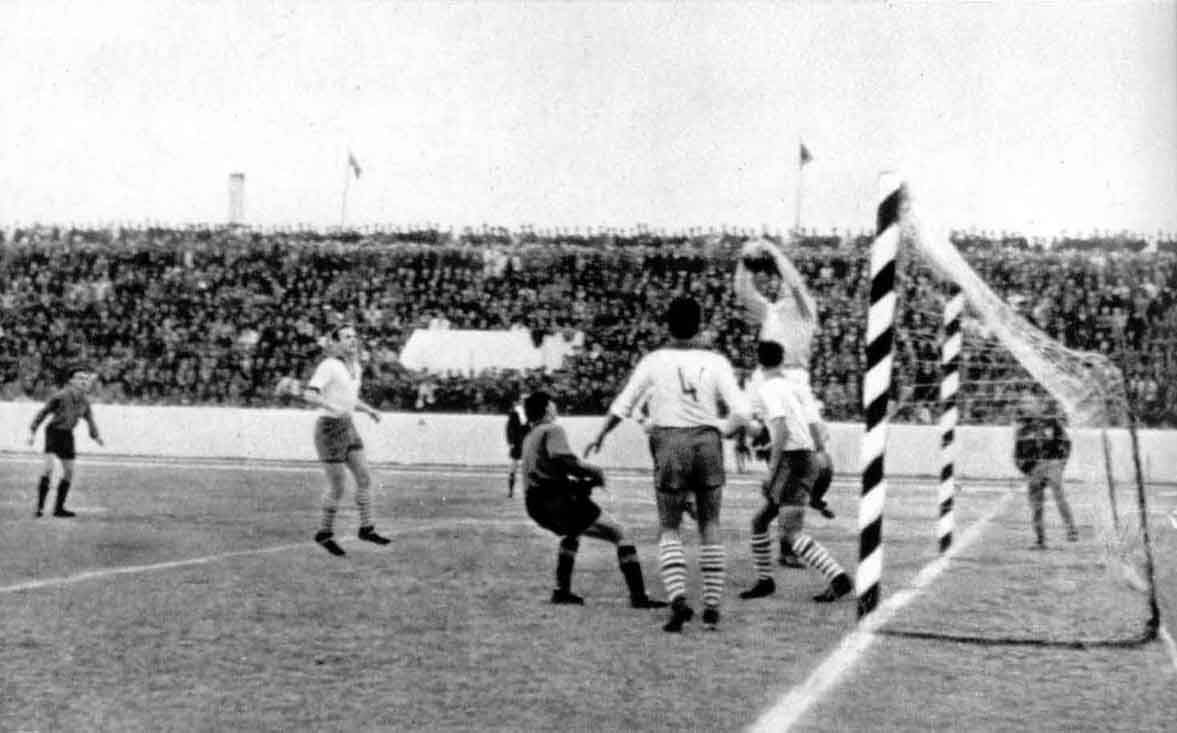 drawing with the German Democratic Republic in 1958 1-1.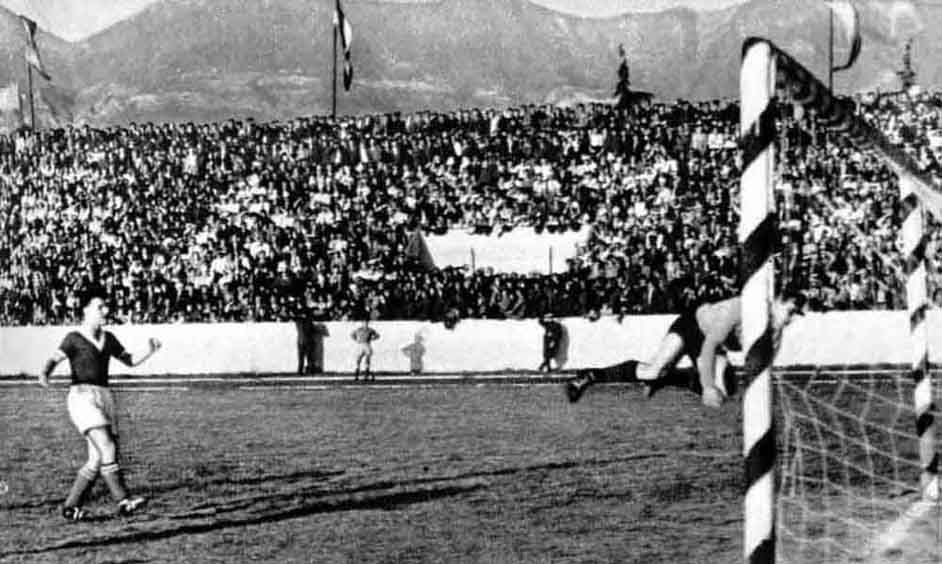 albania's very own little Puskas. Panajot Pano scoring for partizani against F.C. Koln.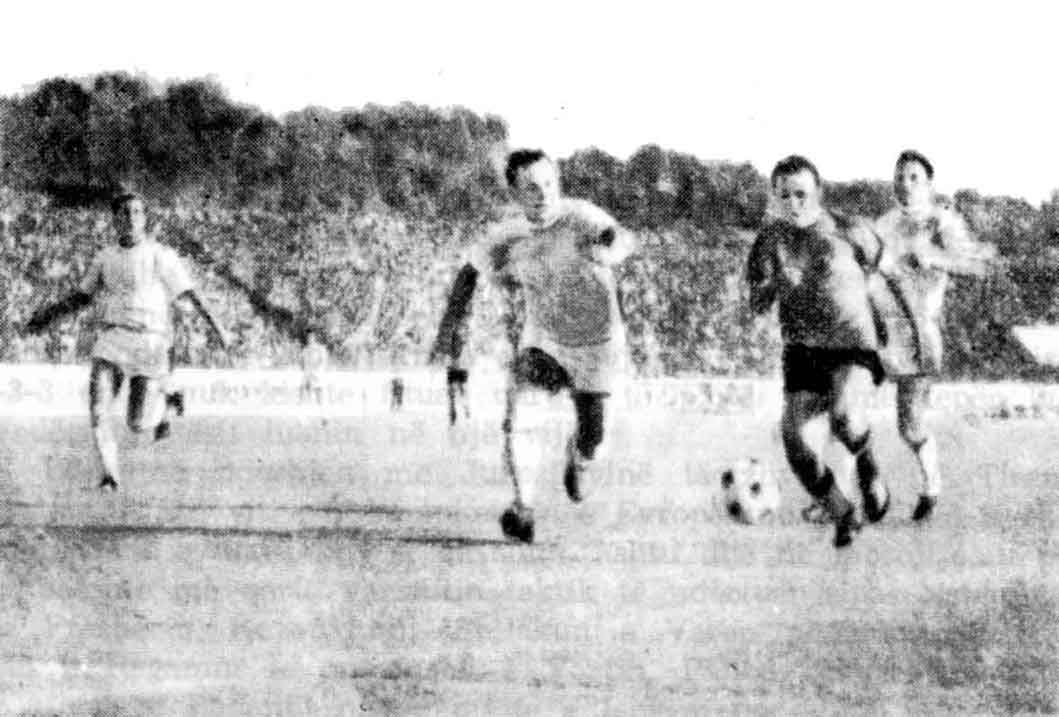 This is the great day in 1967 when we eliminated the Germans from the European Championships. They needed a win but they couldn't get it.
Tiranë, December 17th, 1967: Albania-Federal Republic of Germany 0-0, III European Championship, 4th eliminatory group; from left: Lin Shllaku, Koço Dinella, Josif Kazanxhi, Sabah Bizi, Medin Zhega, Frederik Jorgaqi, Ramazan Ragami, Ali Mema, Teodor Vaso, Frederik Gjinali, Panajot Pano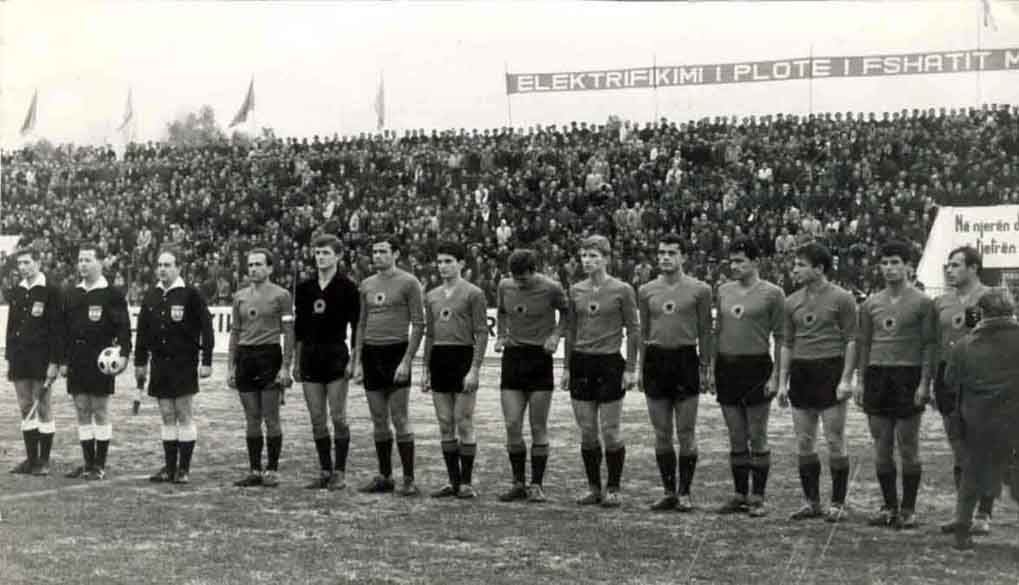 This was the goal scored by Gjilani that wasn't counted. The referee didn't see it, what do you expect the bastard was Austrian.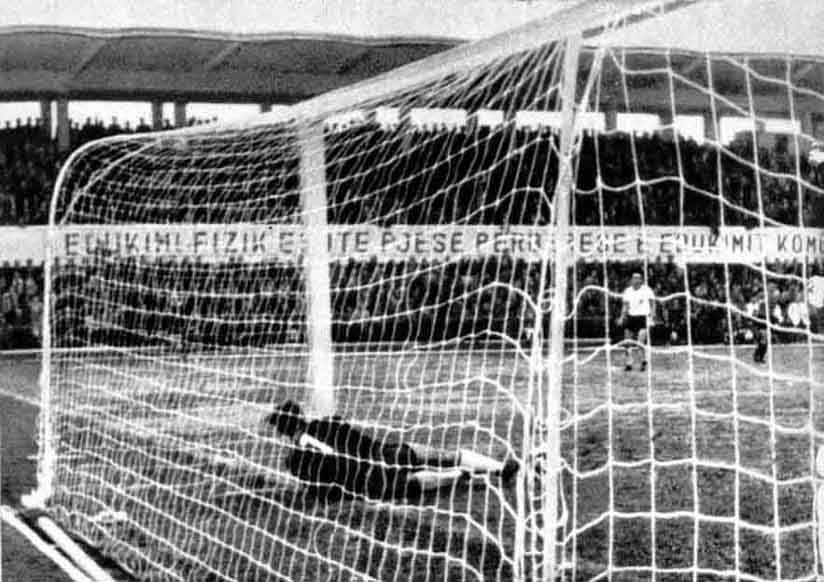 The greatest of the Great. Panajot Pano doing what he does best against Germany. He once dribbled all the way into the net.


S.K. Tirana, or 17 Nentori, drawing against Ajax. The guy with the ball is Zhega.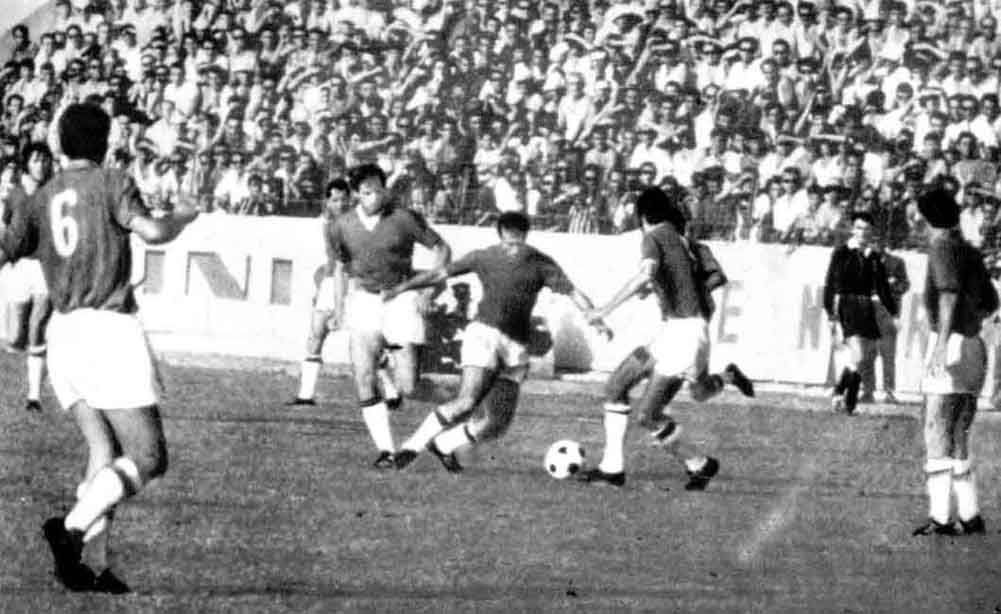 Kicking Turkey's ass in a qualifying match for the 1972 Euro cup. Look at the guy plunging in with his head. His name is Ilir Perlaska.


The 1978 Under 21 Balkan's Championship won by albania. Romania defeated 7-1. The team was coached by Loro Borici.

Perlat Musta, Ferid Ragami, Starova, Agustin Kola, Gega, Andrea Marko, Haxhi Ballgjini, Ferdinand Lleshi, Arben Minga, Dashnor Bajaziti, Shyqyri Ballgjini

some more pictures from the match

Dashnor BAjaziti scoring the 5th goal in the 80th minute.


Loro Borici giving Shyqyri Ballgjini the Cup of Victory.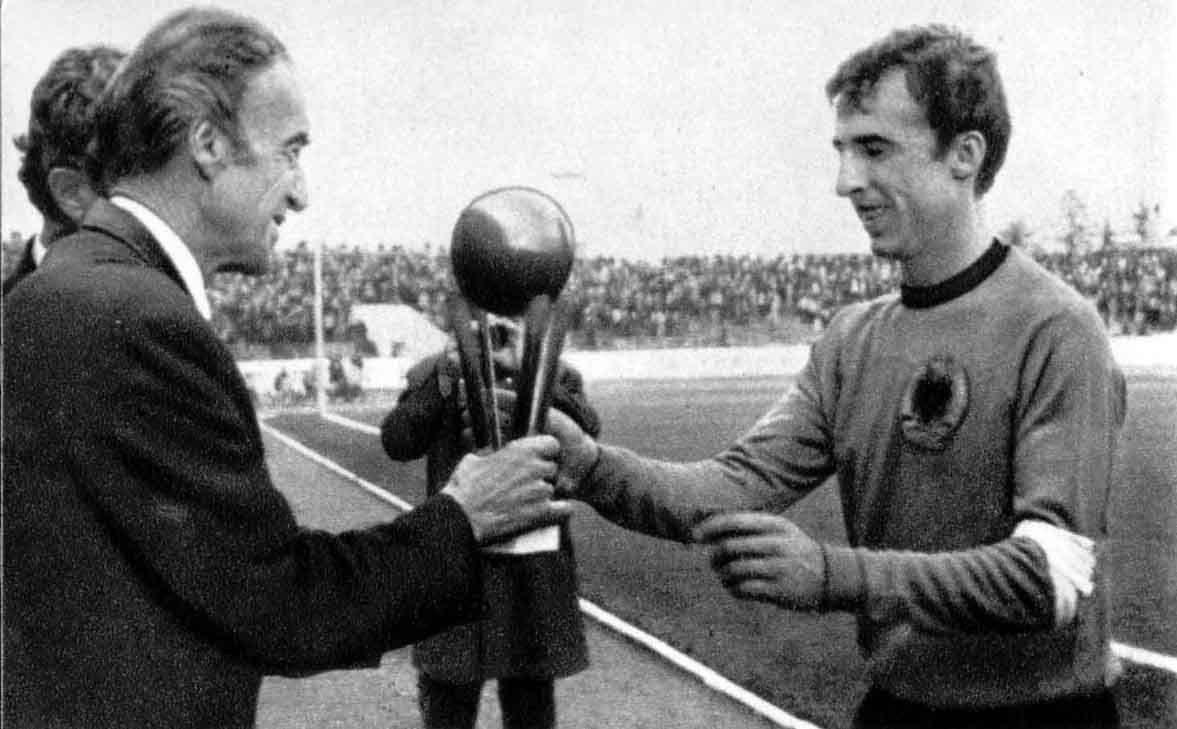 The victory run


in the 1983 european chapionship for under 21 they qualified to quarter finals.
Here they beat Austria 3-0. the guy scoring the penalty is Arben Vila.


Tying with Germany 1-1. Mirel Josa scored the goal.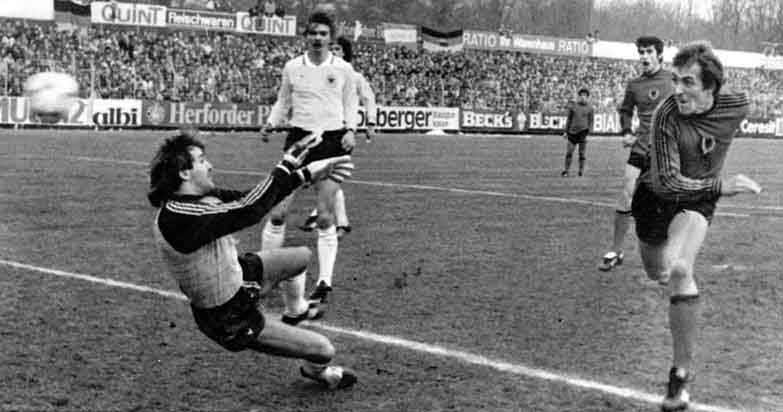 Some club victories.
Vllaznia beating Austria Wien 2-0. First goal scored by Zhega in 8th minute.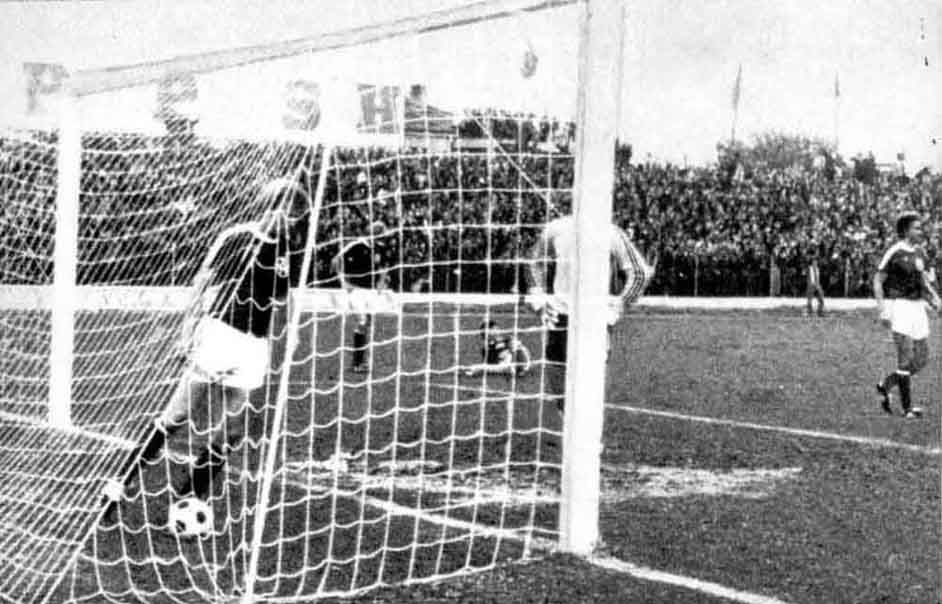 Partizani beating Glasgow Celtic 1-0.Amazing goal by Agim Murati.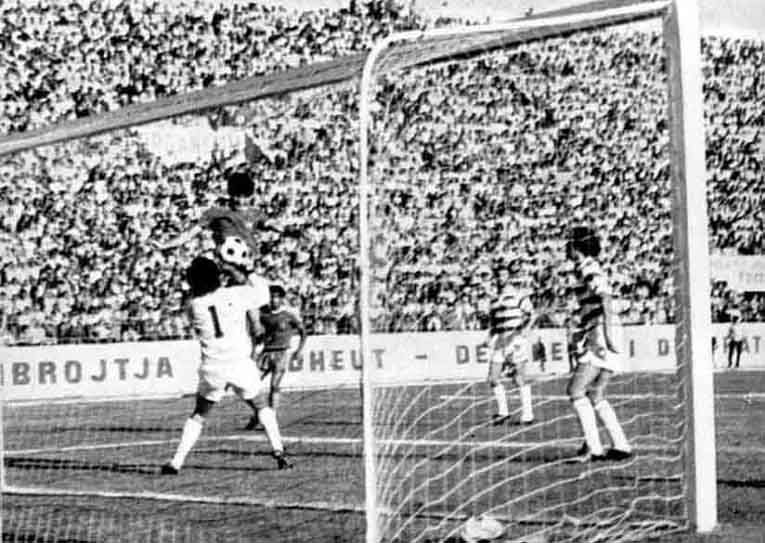 Beating Finland 2-0 for the 1982 World Cup. Jani Kaçi, Millan Baçi, Safet Berisha, Kastriot Hysi, Muhedin Targaj, Ferid Ragami, Ferdinand Lleshi, Andrea Marko, Sefedin Braho, Vasillaq Zëri, Arben Minga (46th Dashnor Bajaziti)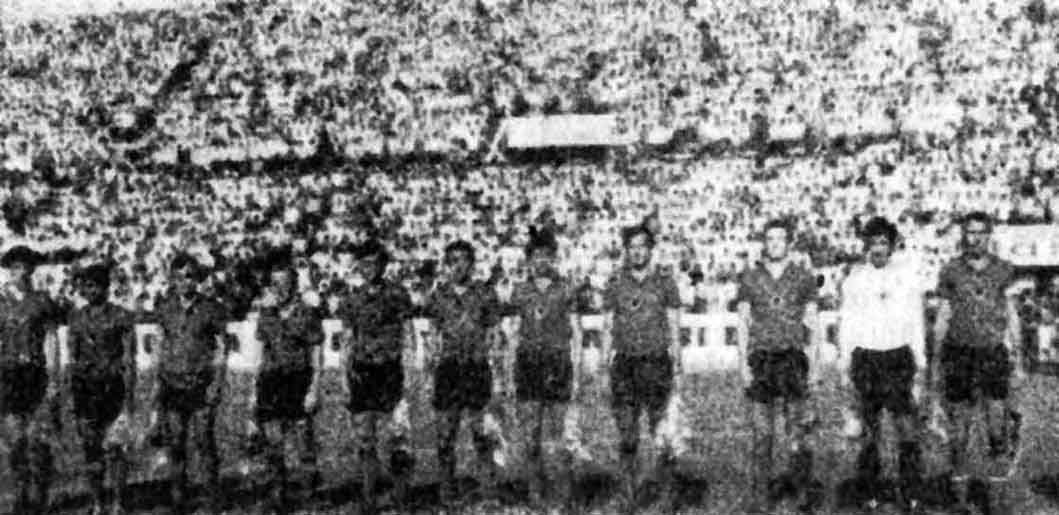 1984 qualifying for the 1986 world cup we beat belgium 2-0.
from left: Agustin Kola, Arben Minga, Skënder Hodja, Shkëlqim Muça, Ferid Ragami, Adnan Ocelli, Sulejman Demollari, Hysen Zmijani, Mirel Josa, Perlat Musta, Muhedin Targaj


This is when Flamurtari drew with Barcelona at home and away(1986), Barcelona only went through due to goal difference. The guy in the photo is Vasil Ruci.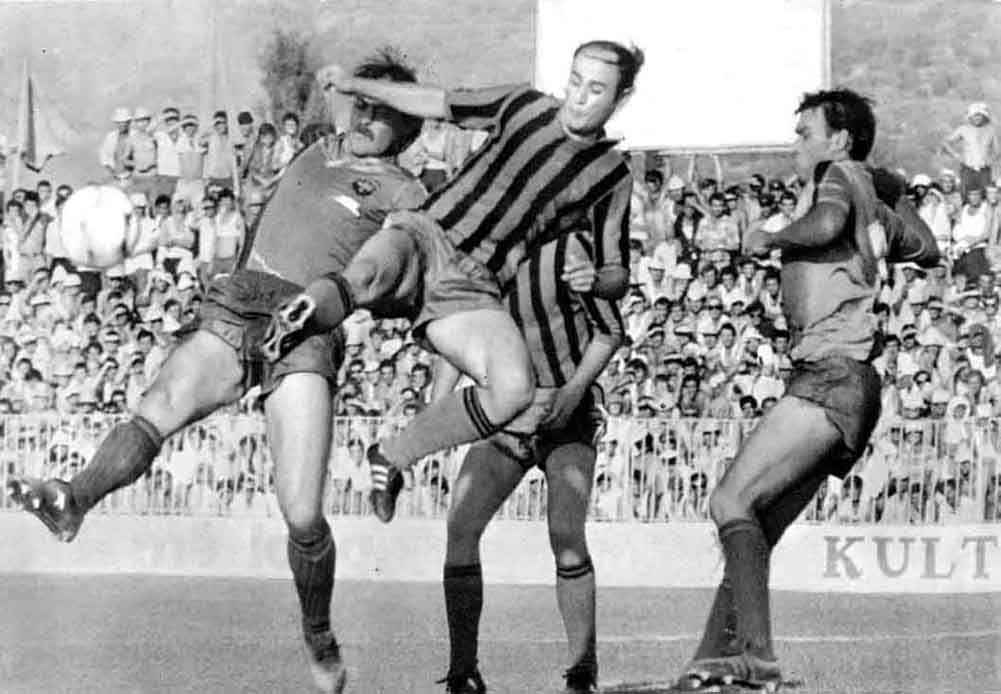 Here is when they beat Partizan Belgrade 2-0. Belgrade was disqualified. The guy scoring is VAsil Ruci again.


1987 same cup, beating barcelona 1-0. the flamurtari player is kushta, the barcelona players ar schuster, manolo and caldera.


I hope you enjoyed it. If you have any pictures from historic matches or articles bring them forward.
-------------------

I support Bhutan in it's struggle for roller blades
---
Topic: Foto historike
Date
By ed
Subject bukur
Reply
dy her qe kemi fituar . fal futbollisteve te kavajes I MADHI QAMIL TELIT. DHE TIETRI I MADH DASHNOR BAJAZITI.
———
Date
By oygur
Subject BAHRI KAVAJA
Reply
does anyone know anything about bahri kavaja (albanian national) who defected to the west in 1950?
what happened to him afterwards?
———
Date
By albaniasoccer
Subject Flamurtari
Reply
Foto Flamurtari-Barcelona, lojtari shqiptar eshte Alfred ferko, jo Kushta
———
Date
By vllaznia gjithmone
Subject tungjatjeta
Reply
e vertet une i mbaj mend ato ndeshje edhe kam qen shume i apasjonuar sidomos per loro boricin e vecanerisht dode tahirin kapitenin e vllaznis. po ashtu mori titull si portieri me i mire ne evrope nuk harrohen keto yje te futbollit
———
Date
By shkodrani
Subject nr 1
Reply
dode tahiri e ska fjal portieri i vllaznise ne 1945 1946 kupa e ballkanit u fitua nga vllazia fal dode tahirit
---